Visions Festival 2019
Various venues London Fields, London.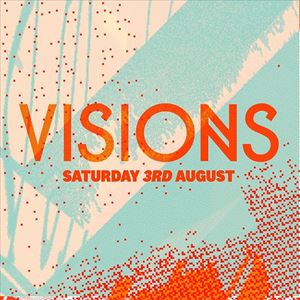 This event is for over 18s only - No refunds will be issued for under 18s.
More information about Visions Festival 2019 tickets
VISIONS 2019
FINAL ACTS INCLUDING ORVILLE PECK, MASTER PEACE, WOOZE, SCALPING, TALK SHOW, ZAMILSKA, FREE LOVE, BESHKEN, KATY J PEARSON, GOLD STAR, GREAT DAD, PREGOBLIN and LAZARUS KANE join
WHITE DENIM, ANNA MEREDITH,
PIGS PIGS PIGS PIGS PIGS PIGS PIGS,
ICEAGE, IMARHAN, BLACK COUNTRY NEW ROAD,
SQUID, KEDR LIVANSKIY, SHYGIRL and more for VISIONS, completing the music line-up for 2019
FESTIVAL EXTRAS INCLUDING VISIONS DOG SHOW, GOOSE ISLAND HOP GARDEN, DOOM YOGA, FOOD MARKET details also announced
SATURDAY 3RD AUGUST 2019
VARIOUS VENUES, LONDON FIELDS
VISIONS festival returns on Saturday 3rd August 2019. Today, the one-day alternative summer event in and around London Fields announces the final music acts for its seventh edition, which already features its most exciting line-up yet with White Denim, Anna Meredith, Pigs Pigs Pigs Pigs Pigs Pigs Pigs, Iceage, Black Country New Road and many more.
Joining from overseas is Canadian masked alt-country sensation Orville Peck, New York producer Beshken and experimental Polish artist Zamilska. With South London producing some of the best new bands around, we are excited that Wooze, Pregoblin and Talk Show are to perform this year. Bristol techno-punks Scalping and Glaswegian synth-pop duo Free Love also join the line-up. Elsewhere, Heavenly Recordings newcomers Katy J Pearson, rising London rapper Master Peace, US Americana artist Gold Star, Great Dad (freshly signed to XL/Young Turks) and Lazarus Kane complete the bill.
In addition, the festival is excited to share details of the Visions Dog Show, in association with All Dogs Matter and The Line of Best Fit. We can reveal this year's theme is PUP FICTION, in celebration of Tarantino's new film, his Pulp Fiction classic and more, inviting a range of iconic costume designs to this year's canine event of the summer. To start your morning, Visions will also host Do.omyoga - the practice of Yoga to meditative doom, drone and avant-garde music - in the Space Gallery. You can find out more info on Do.omyoga here and buy your tickets for Do.omyoga @ Visions 2019 here - https://link.dice.fm/oIBjN75kkX.
Following the success of last year's Future Visions - our Palm & Tarot Readers also return this year.
Visions is delighted to partner with Goose Island for a unique garden space which will include Goose Island bars, a full DJ line-up, and Hoxton Radio broadcasting live from the festival. Goose Island are creating a special beer for Visions in collaboration with White Denim. The rockers headed to the Goose Island BrewPub in Shoreditch last Saturday to help brew the Visions Shanalalager - an easy drinking India pale lager with generous amounts of Citra, Azzacca and Mosaic Hops. Expect a balance of bready malt character and hints of citrus and melon from the hops. Come taste the beer exclusively at the festival in the Goose Island Hop Garden!
Finally, Visions reveals its food traders which include The Good Slice, LOS TACOS, Mr Pig Stuff and ice cream stall LAPP.
Focussing on accessibility and highly alternative entertainment, Visions tickets are already selling fast, and only a limited amount remain at the ever-affordable £30.00. Tickets are available here.
VISIONS is brought to you by promoters Rockfeedback and Bird On The Wire, in association with London in Stereo and Goose Island.
https://www.facebook.com/visionsfstvl
@VisionsFestival
Praise for Visions 2018:
"Visions is a parade of music, food, colour, light, beer and laughter." – Loud & Quiet
"The Hackney all-dayer is one of London's most perfectly formed festivals, matching an expertly curated line up to some pretty damn cool off site events." – Clash
"... its strong line-up comes complete with novelty events such as a late night punk rock karaoke session and the now almost legendary Visions Dog Show, it's a festival that's managed to remain its intimate feel whilst still attracting a host of talent." – DIY
"Visions is fast becoming one of the UK's finest festivals." – The Line of Best Fit
"Visions has long been the total boss of London's multi-venue festivals, breaking new acts and welcoming more established artists to good old Hackney." – London In Stereo
"a hip line-up" – Evening Standard
The line-up:
WHITE DENIM - ANNA MEREDITH - PIGS PIGS PIGS PIGS PIGS PIGS PIGS - ICEAGE - STEAM DOWN - DEMDIKE STARE - IMARHAN – WESTERMAN - ORVILLE PECK - BLACK COUNTRY, NEW ROAD - KEDR LIVANSKIY - SQUID - SHYGIRL - NARDEYDEY - MARIA SOMERVILLE - RINA MUSHONGA – OTTA – WOOZE – SCALPING – TALK SHOW – ZAMILSKA – FREE LOVE – BESHKEN – KATY J PEARSON – GOLD STAR – GREAT DAD – LAZARUS KANE – MASTER PEACE – PREGOBLIN
Venues & Locations:
Oval Space, 32 The Oval, London, E2 9DT
Hangar, 2-18 Warburton Road London E8 3FN
London Fields Brewhouse, 369-370 Helmsley Place, London E8 3RR
Pickle Factory, 13-14 The Oval, London, E2 9DU
Sebright Arms, 31-35 Coate Street, London, E2 9AG
Space Studios Courtyard & Carpark, Warburton Road, E8 3RH
One wristband accesses all venues.